Would you like to do a little Island hopping from the comfort of your RV? Then check out the island adventures on the Georgia Coast, in the heart of the Peach State. Hospitable communities welcome you with fun, recreation and succulent seafood.
1. Brunswick
Starting Point
Known as the world's shrimp capital, Brunswick boasts several restaurants that serve these freshly caught morsels. After savoring the flavors from the sea, explore the town's deep history with a stroll down historical neighborhoods lined with colonial- and Victorian-era structures. Several festivals celebrate the city's heritage, including the Brunswick Rockin' Stewbilee (January), the Rhythm on the River concert series (year-round) and the Blessing of the Fleet (May), which honors the shrimp boats as they depart for another big catch.
2. Jekyll Island
Drive 13 miles • 22 minutes
With a warm climate and miles of white-sand beaches fringed by luxuriant woods and forest, Jekyll Island reigns as an idyllic summer playground for families looking to combine outdoor recreation with scenic beauty and a dose of history. There are plenty of campgrounds in Jekyll island allowing you to make the most of your time on this Georgian paradise. The smallest of Georgia's barrier islands, Jekyll Island gained notoriety as a vacation destination in 1886, when the nation's empire builders established winter estates off the mainland. Many of these Gilded Age palaces are available for touring today. Ten miles of shoreline and five distinct beaches provide a stretch of sand to suit every taste. Home to "nature's jungle gym," Driftwood Beach is a must-see.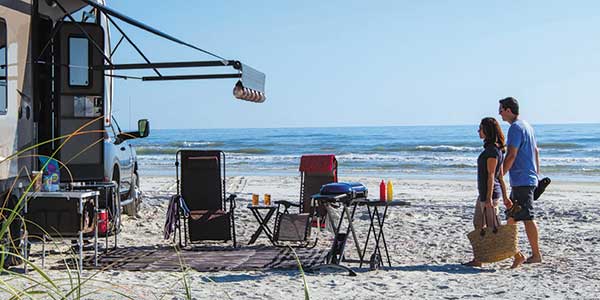 3. Savannah
Drive 93 miles • 1 hour, 31 minutes
Savannah Historic District is a wonderland of sprawling squares, oak draped with Spanish moss and opulent fountains. Go on a ghost tour to learn about this iconic city's compelling past. Savannah's historic kernel is the nation's largest Historic Landmark District and the town's undisputed highlight.
Recommended Stopovers
Savannah Oaks RV Resort • Savannah, GA – (800)851-0717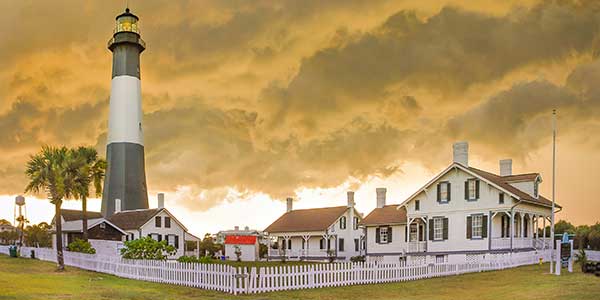 4. Tybee Island
Drive 18 miles • 30 minute
When you've finished walking the streets of Savannah, take a trip to the coast. Tybee Island is known for its beautiful wide beaches, an 18th-Century lighthouse and a laidback atmosphere. If you happen to be passing through near the end of May, get your squirt guns ready and prepare for the South's largest water fight.