America's capital is much more than monuments that stand amid the vast bureaucracy of federal government. The city boasts lots of green spaces as well as institutions that preserve rare natural phenomena. This trip will show you the wild side of the District of Columbia.
1. East Potomac Park
Starting Point
Occupying 395 acres on an island in the Potomac River, this delightful expanse of nature is threaded with trails that will help you keep and shape and will treat you to fantastic views of the river and city. Set out on the 4.1-mile perimeter trail; it's best in spring when the cherry blossoms are in bloom. Make sure you check out the Jefferson Memorial on the northern end of the hike. Much of the park consists of the East Potomac Golf Course, with a 100-stall driving range.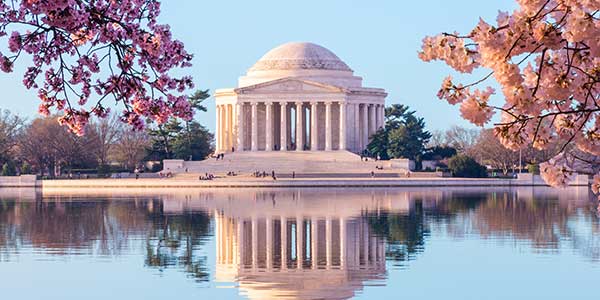 2. Smithsonian Natural History Museum
Drive 2 miles, 6 minutes
Located on the north side of the National Mall, this museum's collection of treasures includes the famous Hope Diamond, live coral reef, and several rare butterflies and plants in its Insect Zoo. Learn about the world around us while marveling at exhibits that bring the world's natural phenomena all under one roof.
3. Meridian Hill Park
Drive 2 miles 12 minutes
Once the site of an encampment for Union troops during the Civil War, this 12-acre park makes up for its small size with several notable attractions. The park's centerpiece is a 13-basin cascade fountain, the longest of its kind in North America. The Joan of Arc statue is the only equestrian statue of a woman in the city. There's also a Dante statue for lovers of literature. This is a great place to relax and collect your thoughts after a long day of traveling.