Welcome to Nevada
Nevada is home to a desolate stretch of U.S. Route 50, known as the "Loneliest Road in America," as well as one of the most visited cities in the nation, Las Vegas. In between, visitors to the Silver State discover a diverse array of landscapes, from the arid Red Rocks in the south to the sparkling waters of Lake Tahoe in the north. While you could spend all of your time in climate-controlled casinos, you're best served if you go outside and experience all that Nevada has to offer, winter, spring, summer or fall.
Fun Times in Vegas and Reno
The obvious starting place for any Nevada adventure is Las Vegas, nicknamed "Sin City" for the town's ample supply of vices, particularly high-stakes gambling. Vegas's boom dates back to the 1930s, when the city legalized gaming, reduced divorce requirements and welcomed visitors from the nearby construction site for the Hoover Dam. The following decades saw the growth of flashy casinos, hotels and theaters. Today's visitors can partake in every form of gaming imaginable in flamboyant casinos.
Reno, located near the state's California border to the north, abounds with natural beauty and big city delights. With the Sierra Nevada Mountains forming a dramatic backdrop and over 300 days of sunshine each year, this region is an ideal place to enjoy the great outdoors. Gambling has long been part of the scene, and the city is home to a number of superior casinos.
Rugged Rocks
Just minutes away from Las Vegas, Red Rock Canyon National Conservation Area feels worlds away. Red Aztec Sandstone cliffs and peaks rise above the scrubby terrain of the Mojave Desert. Watch as the light sets them ablaze at sunrise and sunset. A little farther from the city lies Valley of Fire State Park, which offers similar landscapes and activities.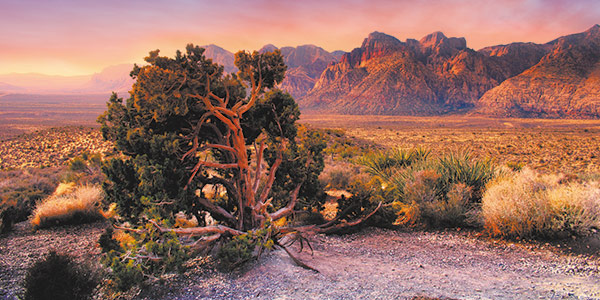 Situated near Nevada's border with Utah, the lush blue and green landscapes of the Great Basin National Park constitute a brilliant change from the desert lands found throughout much of the state. Centuries-old bristlecone pines speckle the terrain as jagged snow-covered mountain peaks jut skyward.
Refreshing Water
One of Nevada's favorite destinations, Lake Mead is located within striking distance of Las Vegas. Created at the point where the Hoover Dam blocked the flow of the powerful Colorado River, Lake Mead is the nation's largest reservoir.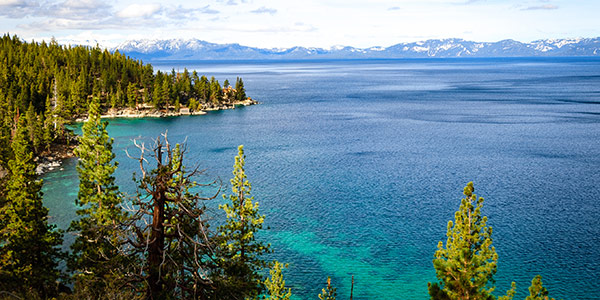 Lake Tahoe, which straddles the border with California north of Yosemite, is one of Western America's crowning jewels, with cobalt waters ringed by towering green aspens and pines. Snowy mountain peaks provide a picturesque backdrop for all your outdoor adventures. Fishing, boating and hiking top visitors' to-do lists.
Nevada's southern tip is home to the gaming oasis of Laughlin and the Big Bend of the Colorado State Recreation Area. This desert oasis is a popular playground for those seeking refreshment in the cool waters of the Colorado.