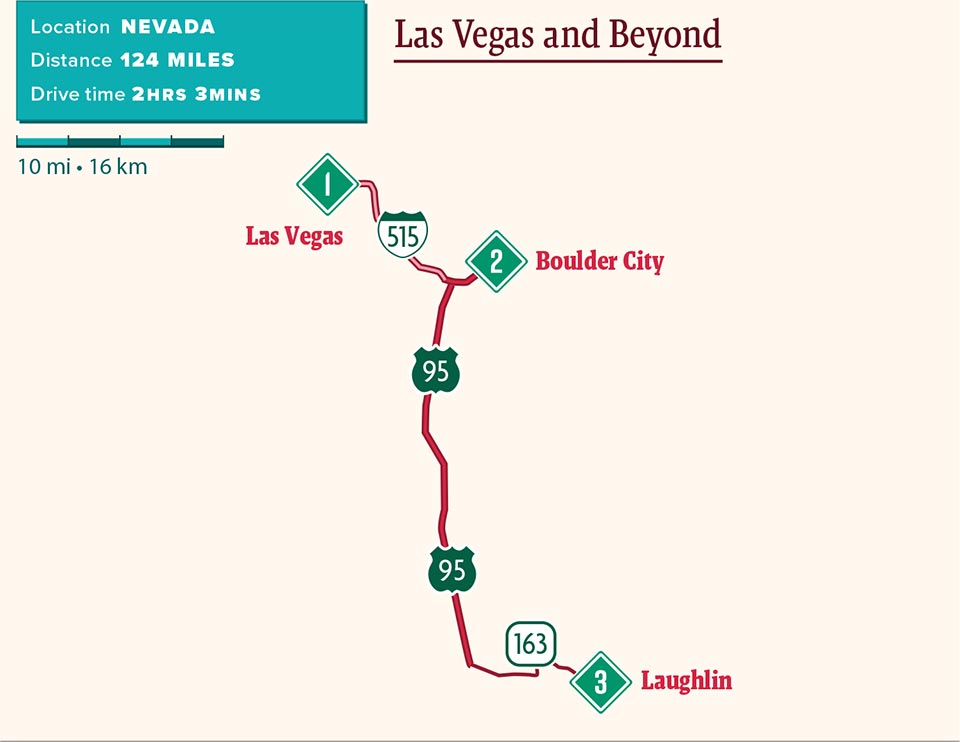 With warm weather throughout the year and ample casinos, Nevada has long been a favorite place to let loose. But while most people associate Nevada with gambling, the state is also a great spot for exploring the great outdoors, from the famous Hoover Dam to the banks of the Colorado River.

1. Las Vegas
Starting Point • Entertainment, Food, Quirky
Easily the world's best-known gambling destination, Las Vegas is a great place to try your luck at table games, indulge in an all-you-can-eat champagne brunch or check out live concerts from some of the world's best-known entertainers. But there's more than just partying and gaming in Sin City, with fun attractions for the whole family. Don't miss the Bonanza Gift Shop, full of kitschy souvenirs and gag gifts, and the Neon Museum (AKA the neon boneyard), where old fluorescent lights from the Strip go to retire.
2. Boulder City
Drive 26.4 miles, 33 minutes • Entertainment, History, Nature, Outdoor Recreation
A short drive from Vegas, Boulder City is one of the only spots in the state where gambling is prohibited. However, most people who visit the town have other activities in mind: it's a great base for visiting Hoover Dam and its museum, as well as Lake Mead, the largest reservoir in the United States. If you visit in early February, check out the Dam Short Film Festival, which screens upwards of 100 short films per year.

3. Laughlin
Drive 97.6 minutes, 1 hour, 30 minutes • Entertainment, Food, Outdoor Recreation 
A quieter alternative to Las Vegas or Reno, the comparably sedate town of Laughlin offers plenty of casinos, restaurants, shops and golf courses, along with a good selection of things to do for those who'd rather keep a tight grip on their pocketbooks. Its location right on the Colorado River makes it a prime spot for water sports, with plenty of opportunities for water skiing, boating, swimming and fishing.