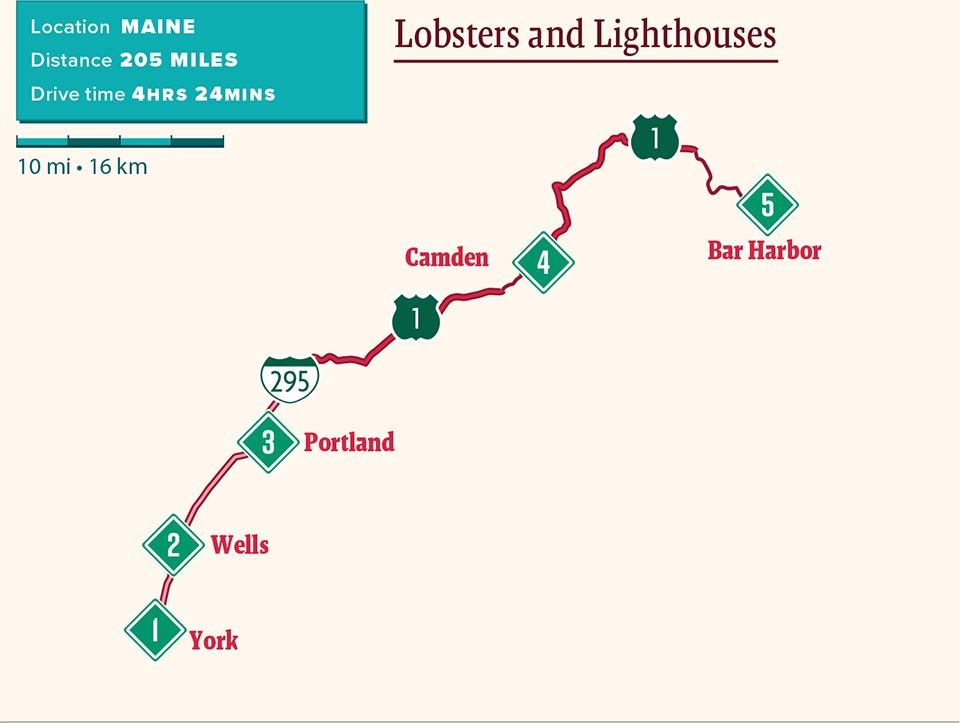 Maine has one of the most picturesque coastlines on the Eastern Seaboard. This itinerary will take you along the state's shore, from lighthouses to a stunning national park.

1. York
Starting Point • History, Sports
Start your trip in York in the southeastern corner of the state. It's one of the oldest cities in the U.S., and features lovely old houses, a pleasant harbor, a two-mile-long beach (Long Sands) and plenty of opportunities to go golfing. History lovers will appreciate the Museums of Old York, a series of historic buildings dating back centuries. Don't leave town without making a pilgrimage to the Nubble Lighthouse, possibly the most photographed lighthouse in the world.
2. Wells
Drive 50.5 miles, 18 minutes • Food, History, Nature, Outdoor Recreation
For more seaside fun, continue on to Wells, known for its myriad antique stores, fresh-catch seafood (especially lobster) and great, family-friendly beaches. Some people come here just to browse antiques (there are over 25 antique shops in town), while others make a point of heading out to the Rachel Carson National Wildlife Refuge, a 50-mile-long stretch of coast with lots of opportunities for hiking and birdwatching.
3. Portland
Drive 23.7 miles, 35 minutes • Food, History, Shopping
The largest city in Maine, Portland has long been a popular tourist destination, with travelers flocking here to visit the charming Old Port Exchange, a historic district with cobblestoned streets and old buildings. The city also offers some great restaurants serving up everything from traditional New England Clam Chowder to lobster rolls. Lighthouses also abound in the area (there are six of the structures within a 20-minute drive of town), including the oft-photographed Portland Head.
4. Camden
Drive 80.5 miles, 1 hour, 41 minutes • History, Outdoor Recreation
A popular summer getaway, especially among wealthier travelers, Camden is a lovely little town set around a lovely harbor that's often full of yachts. There are lots of things to do in the area, from boating and swimming in Magunticook Lake to exploring the lovely shops and streets of the city's Old World-style historic district. If you come during the summer, don't miss the annual Camden Windjammer Festival, when schooners come into the harbor for a weekend of fireworks and festivities.
5. Bar Harbor
Drive 57.7 miles, 1 hour, 38 minutes • Food, History, Nature, Shopping
Your final destination is Bar Harbor on Maine's Mount Desert Island. This popular summer spot attracts outdoorsy folk in the warmer months, owing largely to its proximity to the biking and hiking trails of the nearby Acadia National Park. Even for those who consider themselves more indoorsy, the town offers plenty, including cute boutiques, regular farmers markets and a number of museums themed around everything from Native heritage to natural history.