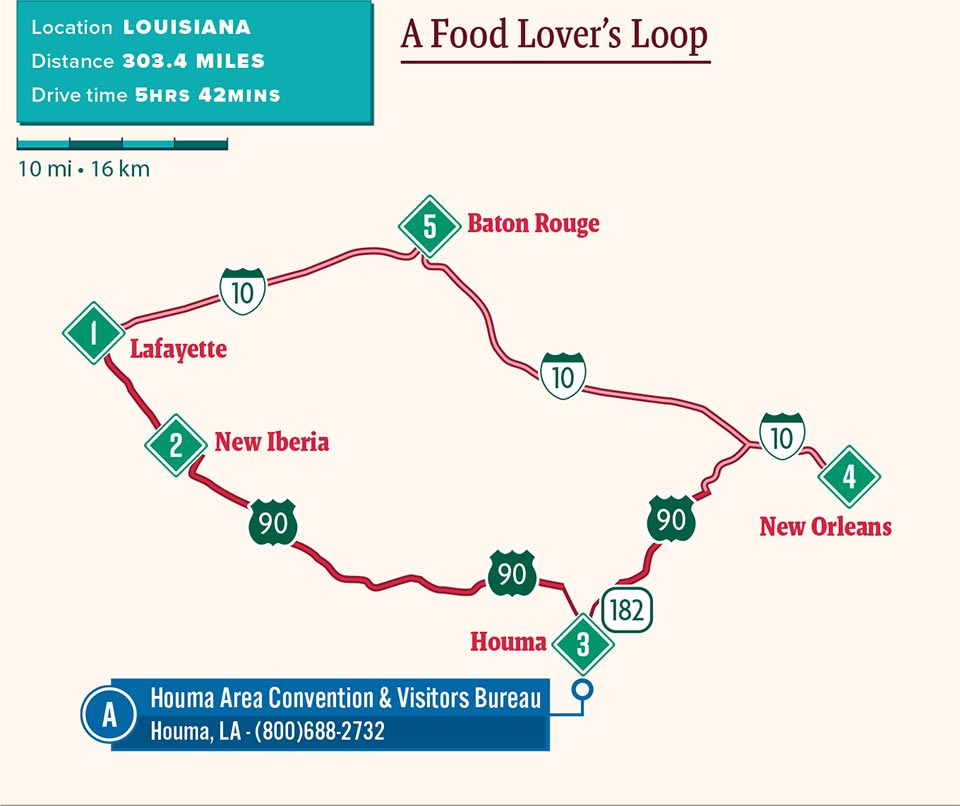 Food lovers beware: Louisiana's cuisine may be addictive. And although several eateries throughout North America can claim to duplicate the Louisiana flavor, nothing beats the real thing. From Cajun cooking to Creole cuisine, follow this loop itinerary to taste your way through the Pelican State.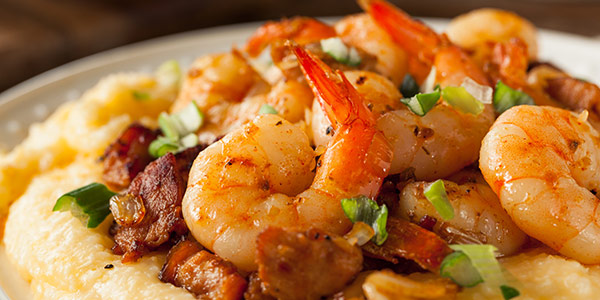 1. Lafayette
Starting Point • Food, History
Begin your journey in Lafayette, the capital of Cajun Country. This lovely city oozes Cajun rhythms and flavors. Try to time your visit to be here on a Friday afternoon, when the city's streets play host to street dances, known as fais-do-do in the local vernacular. While in town, make sure to try some traditional Cajun specialties, such as seafood gumbo or boudin sausages.
2. New Iberia
Drive 21.4 miles, 37 minutes • Food, Nature
Straddling the Bayou Teche, New Iberia is a small, historic city that's best known as the home of the world-famous Tabasco Sauce. There are plenty of things to do in town, from checking out the beautiful antebellum mansion, Shadows-on-Teche, to strolling through the 200-acre Jungle Gardens. However, if you only have time to do one thing, make sure to pay a visit to nearby Avery Island, where Tabasco Sauce is made.
3. Houma
Drive. 83.7 miles, 1 hour, 33 minutes • Nature, Quirky
Most visitors to Houma make a beeline to the bayou for one of the many boat tours on offer — keep an eye out for alligators, pelicans and turtles. There are also plenty of museums here, including the Bayou Terrebonne Waterlife Museum, which showcases bayou life and local history. Birdwatchers will also want to stop by the Mandalay National Wildlife Refuge, which is home to wading birds and eagles.
Recommended Stopovers
Houma Area Convention & Visitors Bureau • Houma, LA – (800)688-2732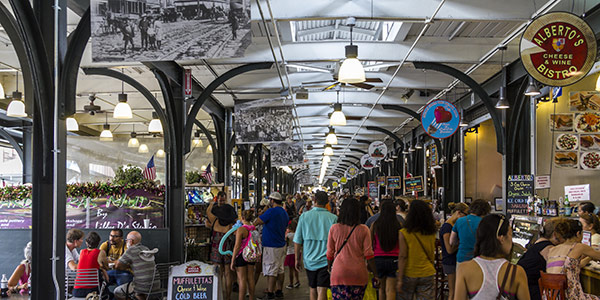 4. New Orleans
Drive 57.5 miles, 1 hour, 6 minutes • Entertainment, Food, Quirky
The most popular city in Louisiana, and easily the most charming, New Orleans is a must-visit for anyone spending time in the South. The Big Easy is filled with charming neighborhoods, from the elegant Garden District to the beautiful perpetual party zone that is the French Quarter. Must-try treats include beignets washed down with chicory-infused coffee at the Cafe du Monde, crusty baguette Po'boy sandwiches offered throughout the city and deliciously strong mint juleps.
5. Baton Rouge
Drive 81.1 miles, 1 hour, 22 minutes • Food
If you want to try authentic Creole and Cajun food, the capital city of Baton Rogue is the place to go. There are numerous food tours available, and travelers who want to visit culinary hot spots on their own will have no problem finding good spots to eat. Don't miss the fried catfish, boudin and muffuletta at Tony's Seafood. Bring your appetite to Louisiana Lagniappe Restaurant for delicious chipotle shrimp, oysters lagniappe and crab cakes. Drive 59.7 miles, 1 hour, 4 minutes back to Lafayette to complete the loop.