Colorado Springs
The adventure of a lifetime starts here
In Colorado Springs, spectacular scenery is found in every direction. From rugged mountain ranges and surging waterfalls to vast gorges and soaring red sandstone formations, the second-largest city in Colorado is the ultimate playground for those who love to take in epic sights. Whether you're itching for an outdoorsy thrill or yearning for tranquility, Colorado Springs offers unforgettable experiences that'll keep you coming back for more.
Pikes Peak: Inspirational Heights
To get an overview of the vast region, take a drive up Pikes Peak, which is part of the Rocky Mountain Range located to the west of the city. At 14,115 feet above sea level, Pikes Peak is known for its commanding views: On a clear day, you'll not only see Colorado Springs and Garden of the Gods, but the plains of Kansas stretching in the distance to the east.
From the Colorado Springs area, the Pikes Peak Highway leads you to the top by bicycle or car. If you want to focus on your stunning surroundings and not on the road, board the Broadmoor's Pikes Peak Cog Railway.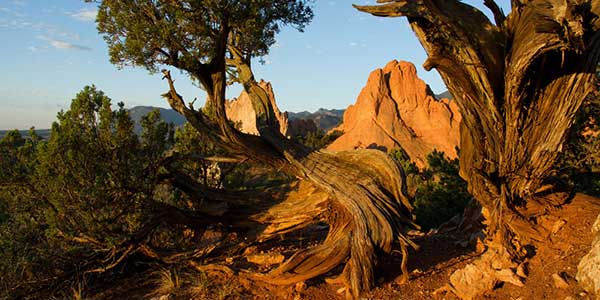 Sitting in the foothills of Pikes Peak lies Garden of the Gods, comprising impressive red-rock formations that soar 300 feet into the sky. Hiking trails weave through the park so you can explore the area at your own pace.
Close to Garden of the Gods is the Cave of the Winds Mountain Park. Perfect for adventure-seekers, this park lets you experience complete darkness while weaving through deep Colorado caverns. Look in awe at impressive rock formations and learn how these caves were forged millions of years ago. Outside, the thrills continue with the Bat-a-Pult zip line, which launches you across Williams Canyon. The Terror-dactyl ride, meanwhile, shoots you 200 feet into the canyon at almost 100 miles per hour.
Chase Waterfalls
Just 5 miles southwest of Colorado Springs and nestled in a 1,250-foot wall box canyon, the Broadmoor Seven Falls dazzle visitors. Here, graceful curtains of water plunge 181 feet down the rocky ravine. After witnessing this, you'll know exactly why Seven Falls made National Geographic's list of international waterfalls. To delve deeper into nature, climb up the 224 stairs beside the falls to access two hiking trails or explore the area via zip line. Soaring Adventures provides 10 zip line routes ranging from 300 feet to 1,800 feet.
For More Information
Visit Colorado Springs
800-888-4748
Colorado Tourism Office
800-265-6723