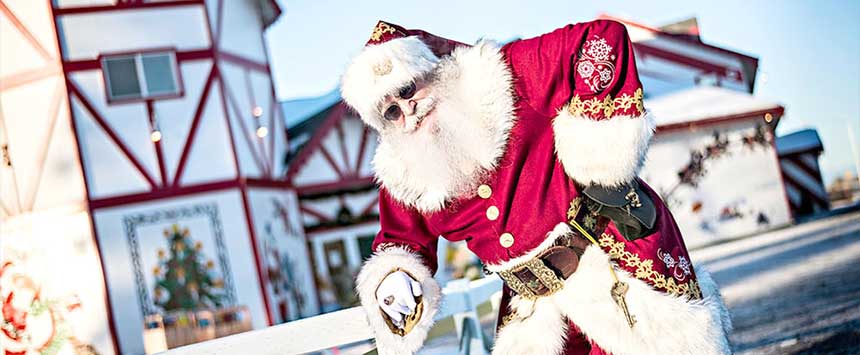 Santa Claus House
In 1952, an enterprising couple, Con and Nellie Miller, decided to build a trading post 13 miles south of Fairbanks, in an area newly dubbed "North Pole." One day, while hard at work on the new store, a young Alaskan boy recognized Con and asked, "Hello, Santa Claus! Are you building a new house?" Inspiration clicked, the new store would be called "Santa Claus House!"
In those early days, however, Santa Claus House offered more basic necessities than it did Christmas treasures. Situated between two military installations and right in the middle of developing North Pole, Santa Claus House became an impromptu gathering place for area residents. In addition to purchasing their groceries, locals could mingle at the soda fountain or pick up their daily mail, as Santa Claus House, under the direction of Postmistress Nellie Miller, was a mail contract station and served as North Pole's first Post Office for almost 20 years.
Begun over 50 years ago by Con and Nellie, Santa Claus House continues as subsequent generations of Millers build on the past and look forward to the future. If you should happen to be one of the thousands who visit Santa Claus House each year, you just might catch a glimpse of the Millers as they dash about performing their endless duties. But whether sending Santa letters to boys and girls around the world, or greeting visitors to Santa Claus House, you know that when they wish you a "Merry Christmas!" they know what they're talking about!
Since 1952, Santa Claus House has put smiles on the faces of millions of visitors from all over the world. Offering an amazing assortment of gifts & collectibles, fabulous apparel, classic toys, exclusive merchandise and more, you're sure to find something for everyone on your list. Sip an espresso or sample some delicious homemade fudge while you browse. A variety of photo opportunities are available including the World's Largest Santa, standing nearly 50 feet tall, just outside our doors. And be sure to have your picture taken in our photo sleigh.
Don't forget to visit with Santa's Reindeer Team next door at the Antler Academy while you're here. And of course, the Jolly Man himself is always happy to see you.
Back to Alaska Welcome Page