Oklahoma has more drivable miles of historic Route 66 than any other state. That makes sense, because the "Mother Road" from Chicago to Los Angeles was born in the state in 1926. Tulsa businessman Cyrus Avery championed the project—and made sure the route dipped south through the Sooner State before turning west. Chandler, located at the mid-point of Route 66 in Oklahoma, is one of the best places to learn about the iconic 2,400-mile roadway.
---
Planning a visit? Stay at Oak Glen RV Park.
---
The Art Deco-styled Chandler Armory, built of local red sandstone during the Great Depression, has been converted into the Route 66 Interpretive Center. The atmosphere of life on the treasured old road comes alive as visitors watch vintage audio-visual installations from Model A Ford seats, World War II Jeep seats and 1964 Mustang bucket seats. Other Route 66 souvenirs found in town include the Lincoln Motel that has been greeting road-weary travelers since 1939 and the meticulously restored cottage-style Phillips 66 Station at 7th and Manvel.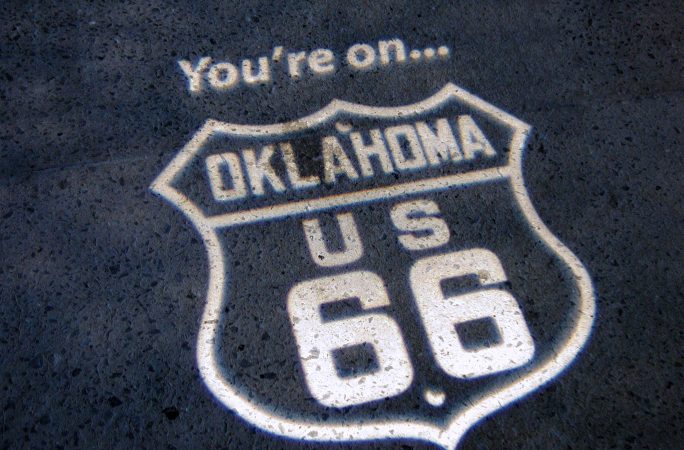 The town post office was established on September 21, 1891 and named for Interior Department employee George Chandler. The town did not emerge until one week later, when settlers raced to claim 2,208 free land rush lots in the Indian Territory. Seven territorial buildings still remain in Chandler, which emerged as a shipping point for cotton farms and a center for brick manufacturing. A trio of these heritage structures have been put to work as the Lincoln County Museum of Pioneer History.
One of those scrambling up the steep hill to the townsite was Bill Tilghman, famous as a former frontier marshal in Dodge City. "Two-Gun" Tilghman was the veteran of several notorious gunfights and was to lose his last at the age of 70 on the streets of Chandler in 1924. His story is one of many told in the Oklahoma Law Enforcement Museum and Hall of Fame.
With Oklahoma City 48 miles to the southwest and Tulsa 67 miles to the northeast, Route 66 handled lots of traffic flowing from Chandler to the big city. These days, the road is I-44 and it sees the big city folk coming to small-town Chandler, where the population has hovered a few families either side of 3,000 for over 100 years, to enjoy the fishing for bass, crappie and perch in Bell Cow Lake and Chandler Lake and some of the best white tail deer hunting in the country.