From every outward appearance, McDonough looks much like the scores of other cities in the Atlanta metropolitan area. There's a neatly landscaped town square, low-slung brick buildings sheltering prosperous businesses and clear views of the big city that don't detract from the town's identity. But coursing below the placid exterior is a ripple of paranormal activity that keeps the regularly scheduled McDonough Haunted History Tours hopping.
---
 Planning a visit? Stay at Atlanta South RV Resort.
---
Some say it started with that train wreck just north of town on June 23, 1900 when three weeks of rain weakened the trestles over Camp Creek and locomotive Old Number 7 plunged into the swollen waters. Thirty-nine people died and many of the suffering were brought to the town square for treatment. Those lost souls are said to roam the buildings to this day. Or maybe it began even earlier out at Nash Farm Battlefield, a public park that preserves the site of a huge Confederate camp that endured the largest cavalry raid in Georgia history during the Civil War.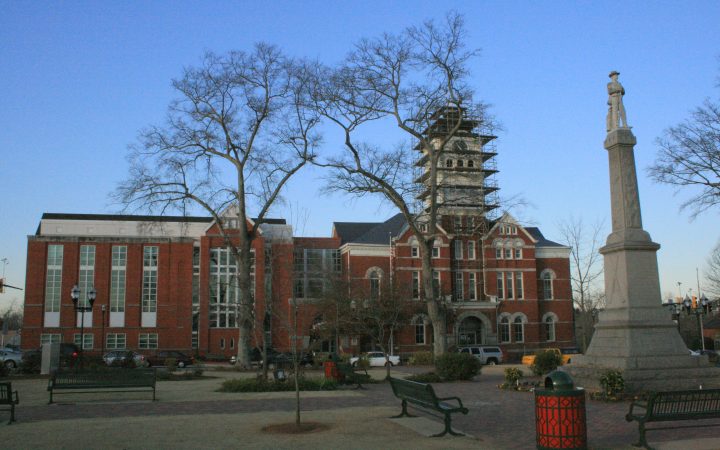 Heritage Park on Lake Dow Road presents a perhaps less-spirited version of McDonough heritage, with its Veteran Military Museum and historical village featuring structures that date to the town's founding in the 1820s. It was named Thomas McDonough, a War of 1812 naval commander who Theodore Roosevelt called the greatest figure in early American naval history. To build a downtown centerpiece worthy of the namesake, architect J. W. Golucke, a designer of 27 Georgia county courthouses, crafted a grand Romanesque-style confection for the Henry County seat in 1897.
Henry County is home to Atlanta Motor Speedway, which fills with 111,000 NASCAR fans on race days. For smaller-scale racing, stop in at Red Hawk Nature Preserve Park, where radio-controlled electric aircraft and giant World War II gasoline powered war birds vie for supremacy of the sky on a regular basis.
In McDonough, agritourism thrives in the shadow of the big city. The Gardner Farm & Peach Orchard keeps pick-your-own visitors busy from May through September and at Southern Belle Farm, a 330-acre working farm, strawberries and pumpkins are the specialty. Growers and non-growers alike—25,000 strong—come together each May for the Geranium Festival for one day of arts, crafts, music, entertainment and food.