Steel baron Andrew Carnegie funded the building of more than 2,500 libraries and performance halls, and only four Carnegie Halls remain in continuous use. One of them is cradled in the Greenbrier Valley of the Allegheny Mountains in Lewisburg, West Virginia. The 1902 Georgian Revival cultural center lords over a bustling arts town that has emerged around it on Church Street.
---
Planning a visit? Stay at State Fair of West Virginia Campground.
---
Just outside of town, Lost World Caverns is one of America's most decorative caves and a National Natural Landmark. So is Organ Cave, which is rich with fossils and contains the country's greatest collection of Civil War saltpeter hoppers, a mineral necessary to manufacture gunpowder.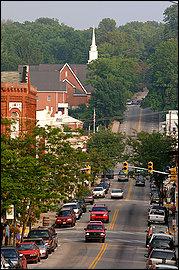 Summer in the Greenbrier Valley brings the State Fair of West Virginia, the roots of which reach back to Lewisburg in 1854. The idea of a "summer White House" began down the road in White Sulphur Springs with Martin Van Buren in 1834. The President's Cottage at the Greenbrier Resort is now a museum and so is the once-secret bunker dug 720 feet into the hillside for essential government employees in the event of a nuclear attack.