Family Fun in the Northwest
In the majestic Pacific Northwest, families can follow in the footsteps of Lewis and Clark, wallow in natural hot springs, descend into canyons formed from thousands of years of geological history and watch beloved Old Faithful fire off like a rocket engine. With its clean, green, offbeat towns and cities where cars take a back seat to bicycles, at every turn, the Pacific Northwest triumphs the environment and the arts: it's the perfect antidote to today's digital world. Jump to a State
Alaska
With its mesmerizing landscapes (including an estimated 100,000 glaciers) teeming with wildlife, chock full of adventure activities and rich with the legacy of native Alaskan culture, Alaska offers the perfect off-the-grid destination for families wild at heart. As close as you can get to a U.S. safari, Alaska's unabashed wildlife and marine life population includes moose, brown bears, black bears, polar bears, bald eagles, mountain goats, whales and orcas. Children and teenagers can walk up a glacier, ride on a sled pulled by Alaskan huskies and join a boat tour at Kenai Fjords National Park.
Alaska Featured Family Parks coming soon…
Idaho
From whitewater rafting on the Salmon River to hiking the rugged trails of the awesome Sawtooth National Recreation Area, or skiing on fresh powder at Sun Valley—the prototype for family ski resorts the nation over—Idaho is a spirited land that brings out every boy's inner Huck Finn (and every man's inner Hemingway). With its sinister volcanoes, fabled "rivers of no return," mining towns steeped in Wild West mythology, Lewis and Clark touchstones, cowboy towns and the homespun charms of Boise, few states combine natural beauty, history, adventure and accessibility like Idaho.
Idaho Featured Family Parks coming soon…
Montana
Casting its gaze forever cast on the great outdoors, Montana is a state where every generation fully embraces the moment. With eight national parks and 54 state parks, Montana is flush with every kind of family adventure. The untamed wonders of Glacier National Park, with its grizzly bears, serrated mountains and scintillating lakes, are convenient and accessible (every parent's travel watchwords), thanks to the iconic, 50-mile-long Going-to-the-Sun Road. Then there is the crown jewel of America's national park system, Yellowstone, with its otherworldly bubbling mud pots, belching geysers and Yellowstone River.
Montana Featured Family Parks coming soon…
Oregon
Lands rich in superlatives and etched with tales of the Old American West invariably score high on a family's travel list. Boasting the deepest lake in the U.S., thunderous 600-foot waterfalls, lands furrowed with 150-year-old wagon ruts and deserts strewn with fossils and streaked with kaleidoscopic rock formations, Oregon's dramatic landscapes present children and teenagers with an unforgettable sensory odyssey. The evocatively named Hell's Canyon offers rafting, boating, fishing and extensive hiking trails for every age and inclination. Overlooking the town of Hood River (the only wind surfing town in the nation), breathtaking Mount Hood is the signature Oregon peak. A short hike (less than two miles) through Mount Hood National Park rewards kids with a soak in the Bagby Hot Springs.
Oregon Featured Family Parks coming soon…
Washington
Boasting eight national parks, 68 state parks and Puget Sound's 2,500 miles of shoreline, Washington State offers myriad adventures. The forested slopes of Mount Rainier provide plenty of outdoor thrills and wildlife watching opportunities. Parents can decompress and let children run free on the San Juan Islands or pop into Seattle's Pike Place Market. The Cascades and Olympic National Park hold their own among awe-inspiring attractions.
Featured Family Parks
Wyoming
When it comes to a great American family road trip, Wyoming is hard to beat. Gaze at impossibly tall mountains, watch geysers that fire off like cannons and take walks in the park. At Yellowstone National Park, nothing compares to the awe on a child's face upon witnessing the belches, blasts and crackles of Old Faithful, the world's most famous geyser. The thrusting daggers of Grand Teton's mountain ranges and robin egg blue glacial lakes arouse awe and a spirit of adventure, while the cool and perpetually youthful town of Jackson offers a vibrant base for hikes on the wild side or a family skiing adventure.
Wyoming Featured Family Parks coming soon…
Alberta
With most of its sights and parks clustered within a four-hour drive of Calgary and Edmonton, Alberta offers beautiful scenery and action packed adventure without the constant "are we there yet?" crooning from the back of the car. In the Canadian Rocky Mountains, Banff and Jasper National Parks, with their awe-inspiring mountains, sparkling glaciers, verdant alpine meadows and mineral hot springs abound in thrilling recreational activities for children and teenagers: hiking; boating; canoeing; fishing; skiing; and rafting. Sprinkled with just a handful of rustic towns, Southern Alberta brings to the table an authentic old west.
Alberta Featured Family Parks coming soon…
British Columbia
With more than 1,000 provincial parks, six national parks, fascinating Native American sites, and a multitude of endemic species, British Columbia combines outdoor adventure and wildlife watching with a healthy dose of national heritage. The Queen Charlotte Islands—which go by the moniker of the "Canadian Galapagos"—are famed for the endemic species that have evolved here. And if ease of use is a determining factor, Vancouver offers a microcosm of the state's riches: glorious Stanley Park offers mile after mile of hiking trails woven through West Coast rainforest and flanking windswept beaches while, for young adults, Vancouver Island offers first-class diving at the site of HMCS Saskatchewan, British Columbia's most successful artificial reef.
British Columbia Featured Family Parks coming soon…
Northwest Territories
With its vast tundra and islands crowned with glaciers, the Northwest Territories make adults and children rethink their place in the world. Home to the Inuit, Dene, Inuvialuit and northern First Nations peoples, young explorers become awestruck when faced with such a haunting, beautiful and brutal landscape that feels untouched by the human hand. In the Arctic Ocean, Banks Island, with its surprisingly diverse wildlife (it's the Arctic after all) is one of the world's best places to see musk ox. Reached via the breathtaking Dempster Highway, the Mackenzie Delta is the NWT's most eclectic region with spectacular national parks and aboriginal hamlets far removed from the tourist carousel of many national parks south of the border. Indigenous modes of transport generally gain favor with the under 16s. In the NWT, dogsledding trips to otherwise snowbound backcountry destinations make for a terrific family adventure and canoe trips (in the tradition of the Dene people) afford exceptional wildlife viewing.
Northwest Territories Featured Family Parks coming soon…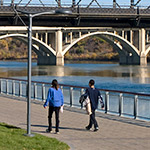 Saskatchewan
Located where the northern Great Plains meet the southern reaches of subarctic boreal forests, the "Land of the Living Skies" is a bucolic tableau of majestic forests, undulating hills and vast prairies dotted with farms and framed by big blue skies. Saskatchewan enjoys more sunshine than any other Canadian province, which facilitates family-friendly exploration through the province's two national parks and 33 provincial parks. Always convivial and surprisingly cosmopolitan, Saskatchewan is a paradise for families that prefer their vacations spiked with off-the-beaten-path adventures: hiking; fishing; camping; cross-country skiing and wildlife viewing. The provincial capital, Regina, is home to one of North America's largest urban parks, which makes it a pleasant base for families, while young adults will find more affinity with Saskatoon, a progressive university city.
Saskatchewan Featured Family Parks coming soon…
Yukon
Home to mystical forests, the world's largest subarctic ice fields, a mesmerizing abundance of wildlife (including 10,000 black bears), foreboding tundra and stunted forest, Canada's raw, untamed Yukon province offers the perfect antidote to today's digital world. Hailed by UNESCO as an "empire of mountains and ice," children and teenagers are awestruck by some of the tallest peaks in North America at Kluane National Park and Reserve. With its dirt streets and clapboard homes, Dawson City ripples with the feverish energy and eccentricity of a former gold rush town and enthralls kids with its gritty, frontier town aura. One of the greatest migrations of any land animal on the planet, the Caribou's annual foray through the wild reaches of Vuntut National Park can make for a transformative experience for older children and teenagers.
Yukon Featured Family Parks coming soon…