Welcome to Maine
With a rocky shore bound by the infinite blue waters of the Atlantic Ocean, Maine offers unsurpassed beauty. Much of the state is filled with rugged wilderness, topped by granite peaks. In the Pine Tree State, the fragrance of the lofty trees fills the air. The eastern coast is dotted with small towns and larger population centers, many of which welcome an influx of visitors throughout the summer.
Great Outdoors
The oldest national park east of the Mississippi encompasses 47,000 acres along the coast of Maine. Hiking, bicycling and wildlife viewing are popular activities in Acadia National Park, all with the backdrop of stunning scenery. A number of crystal-clear waterways provide spectacular locations for paddling. Head to the top of the granite peaks for expansive views of the ocean and lands below. To observe a microcosm of marine life, check out the tide pools along the shores. Don't miss Thunder Hole, a crevice in the rocks that makes a roar when water rushes in.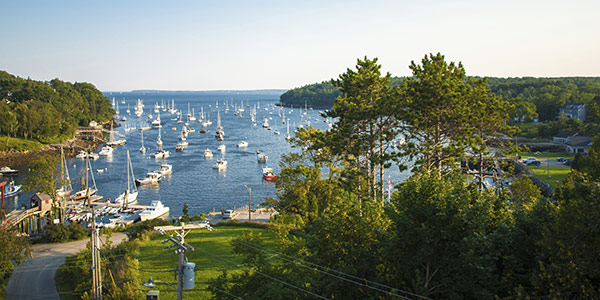 Almost 300 miles of the Appalachian Trail cross through Maine. A number of trailheads help day hikers reach their desired section of the trail; be forewarned, this state is known for particularly challenging terrain.
Cities and Towns
Maine's largest city is the picturesque seaside town of Portland. The cobblestone streets and historic buildings in the Old Port District will transport you back in time. Visitors are drawn to the shops and restaurants found here, as well as lovely scenes of ships in the harbor. Head up to the Portland Observatory for impressive views of the city below. Flea markets, local brewpubs, and art galleries round out the experience.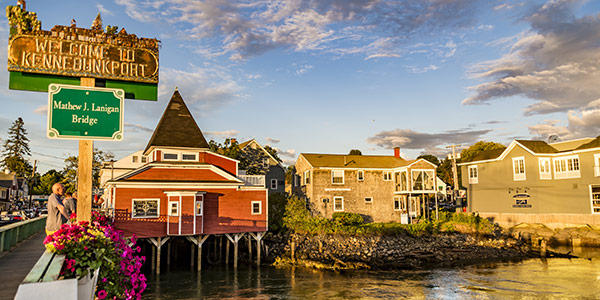 The pre-eminent seaside town of Kennebunkport has been welcoming visitors since the 1600s. Historic mansions line the streets, and a bustling entertainment area offers restaurants, galleries and shops. Several beaches can be enjoyed in the area. Sit back and enjoy the sound of the waves crashing along the shore in this relaxed Maine town.
States of Fun
It would be criminal to visit Maine without partaking in a quintessential seafood entrée, whether it be fresh lobster tails served with hot butter, cool lobster rolls or a platter of scallops, shrimp and haddock. Top it off with cobbler made with locally grown blueberries. Annual events celebrate the region's red crustaceans. The Maine Lobster Festival has been held for over 70 years in Rockland. The festival also shines a spotlight on craft beers, local wineries, and arts and crafts.
Historic lighthouses stand guard high above Maine's craggy coast. Take a journey along the shore to photograph and tour these stoic beauties. While near the Atlantic, take advantage of the whale-watching opportunities. A number of charter boats will take you out into the waters to observe whales, dolphins and seals in their natural habitats. To catch a glimpse of the elusive moose that inhabit the region, kayak and canoe tours can take you to prime locations.