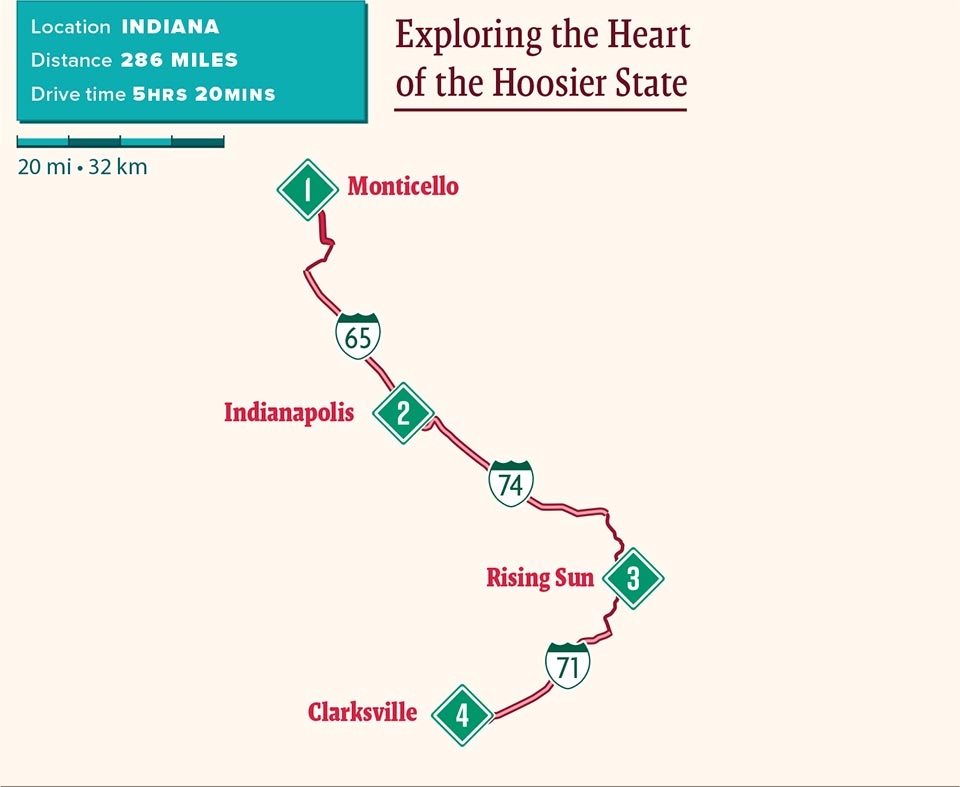 From family-friendly amusement parks to riverboat casinos, Indiana offers plenty for visitors. Follow this itinerary to uncover some of the Hoosier State's best ways to have fun.
1. Monticello
Starting Point • Entertainment, Outdoor Recreation, Quirky
Start your Indiana trip in Monticello, a popular destination surrounded by lovely lakes and family-friendly attractions. The big draw here for many guests is the Indiana Beach Boardwalk Resort, an amusement and water park with six roller-coasters, six slides and a Ferris wheel that's illuminated at night. Lakes Shafer and Freeman also draw plenty of visitors for swimming and boating, and the town is home to one of the few remaining drive-in theaters in the state.

2. Indianapolis
Drive 85.5 miles, 1 hour, 48 minutes • History, Nature, Sports
While Indianapolis is best known for the annual Indy 500, the Hoosier State's biggest city has plenty going for it throughout the year. Indeed, it's very much a haven for nature-lovers. Don't miss White River State Park, a 250-acre green space featuring a concert venue, a botanical garden, the Indianapolis Zoo and a few museums, notably the Eiteljorg Museum of American Indians and Western Art, and the NCAA Hall of Champions.
3. Rising Sun
Drive 111.8 miles, 2 hours, 8 minutes • Entertainment, Food
Set on the Ohio River, the little city of Rising Sun draws in a steady stream of tourists, thanks to the Rising Star Casino Resort, a riverboat casino with its own hotel, Scottish links-style golf course designed by Tim Liddy and even an RV park. Along with slots and table games galore, the casino serves up plenty of entertainment opportunities, including regular comedy nights, live music concerts and an extensive buffet.
4. Clarksville
Drive 81.2 miles, 1 hour, 26 minutes • History, Outdoor Recreation
Across from Louisville, Kentucky, and right on the Ohio River, Clarksville is best known for its proximity to Falls of the Ohio State Park. The park draws visitors with its exposed fossil beds that date back to the Paleozoic Devonian Era and features an interpretive center with educational exhibits on natural and local history. The park also features a number of flower gardens, as well as a gift shop, picnic facilities and a boat ramp.