Welcome to Massachusetts
The Bay State has something for everyone. History buffs can sink their teeth into the sights and sounds around Plymouth Rock and explore the roots of the American Revolution with the Boston Tea Party. Sports fans can celebrate America's pastime at Fenway Park or take in a football game at Gillette Stadium. Outdoorsy types will flock to Cape Cod and its abundance of white sandy beaches.
Boston is the state's focal point. It's bursting with the usual slate of big-city amenities, but it's all balanced alongside more humble sights, such as the Freedom Trail, Boston Common, Boston Harbor and Beacon Hill. For those traveling with kids, there's Six Flags New England, the New England Aquarium and Southwick's Zoo.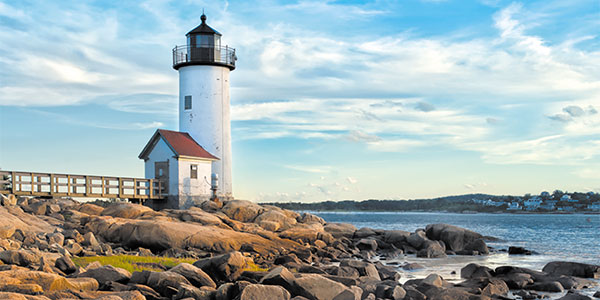 Adventure
When you think of Massachusetts' natural attractions, you think of Cape Cod, and for good reason. This strange arm of land jutting out into the Atlantic Ocean is packed with beaches, fishing villages, art galleries and tour outfitters. The waters in protected Cape Cod Bay are calm and idyllic, perfect for families with small children, while the ocean-facing beaches are popular with surfers and paddleboarders.
The Cape Cod National Seashore is home to more than 40,000 acres of federally protected beaches, marshes, ponds and sand dunes. There are educational ranger-led programs for kids, an abundance of hiking and biking trails to explore and tons of scenic overlooks for picture-perfect vacation photos.
Further north, there's Halibut Point State Park, near Rockport. This was once a functioning granite quarry but today serves as a conservation area. The park features a tapestry of surreal rock ledges.
Heritage
In a certain sense, the history of the United States and the history of Massachusetts both begin with a rock—Plymouth Rock, to be exact.
It was here that the Mayflower landed, and the pilgrims first arrived in 1620. Visitors to the Bay State will also want to visit the Pilgrim Monument and Provincetown Museum in Provincetown. At 353 feet, the monument is the tallest granite structure in the country. For a more interactive and lifelike look at the history of the Pilgrims, visitors can head for the English Village at the Plimoth Plantation in Plymouth.