Wanderlust Crossings RV Park, where modern-day amenities meet traditional traveling fun, is Oklahoma's premiere RV park.
The park is located in the city of Weatherford, which is home to around 11,000 people. Situated in Southwestern Oklahoma, about an hour west of Oklahoma City, Weatherford is just off I-40. Home to many notable and easily-accessible attractions and businesses, Weatherford is considered one of the top ten fastest-growing cities in the U.S., with a little something for everyone.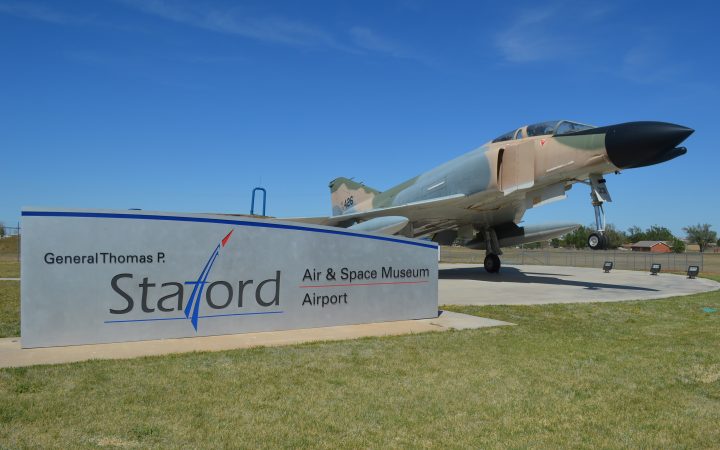 What's Local: Stafford Air & Space Museum
The Stafford Air & Space Museum is named in honor of famed test pilot and astronaut Lt. General Thomas P. Stafford. Stafford was born in 1930 and raised in Weatherford, OK. The Stafford Air & Space Museum houses one of the finest collections showcasing the history of aviation and spaceflight and one of the best collections of aerospace artifacts in the central United States.
The museum showcases thousands of items representing the evolution of aviation and spaceflight. Examples include a ten-story Titan II rocket, actual space suits – including Stafford's flown Apollo 10 pressure suit, an Apollo Command & Service Module, and one of the most impressive collections of rocket engines in the world. Highlights are a gigantic F-1 from the Saturn V, a flown Shuttle Main Engine, and a flown segment of a Shuttle Solid Rocket Booster you can walk through. The museum has over 3,500 artifacts on display. It houses over 50,000 Sq. Ft. of exhibits and interactive fun.
The museum's newest outdoor display has already become an iconic monument for the region.  Situated just outside the museum's front entrance, one of the most revolutionary aircraft ever built, the Lockheed F-104 "Starfighter," now points majestically six stories straight up into the sky!
Other attractions include: the Heartland Museum, the Wind Energy Center, and Prairie West Gold Club.
Wanderlust Crossings RV Park
The park just opened May 1, 2017, so get ready for an out-of-the-ordinary experience you're sure to love.
You'll find a full scale facility at Wanderlust Crossings RV Park , complete with all your traveling needs…and then some. When you stay with  Wanderlust Crossings RV Park, you're in for a unique experience!
Take a peek at everything we have to offer and contact us for help planning your visit.
See you soon!