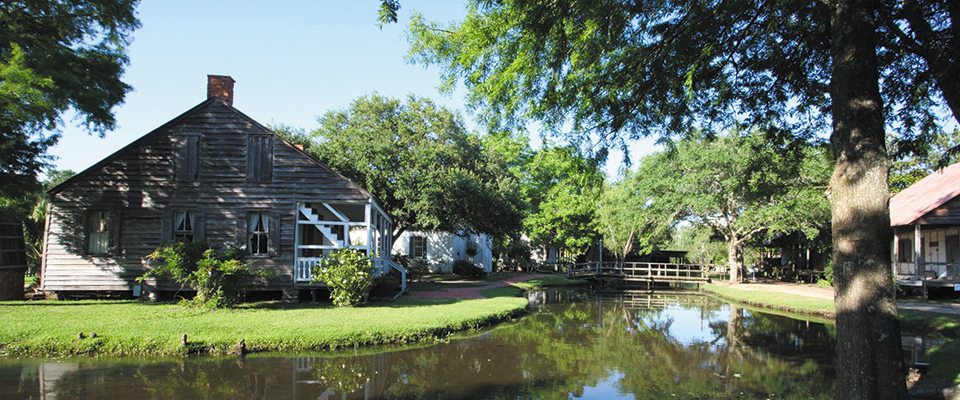 Spotlight: Lafayette
Celebrate Acadian culture in the Cajun capital
The 120,000-person city of Lafayette has plenty to offer visitors, particularly those interested in local culture and Louisiana history. Straddling the banks of the Vermilion River that runs through southwestern Louisiana, the city dates back to 1821, when it was founded by Jean Mouton, an Acadian settler. It was renamed Lafayette in 1884, in honor of the Marquis de Lafayette, who was well known for his support of the patriots during the Revolutionary War.
Cajun Capital
Lafayette is the de facto capital of Cajun Country and is celebrated for its strong musical traditions and street dances. Mardi Gras is feted here with fervor, and on Friday afternoons, the streets come to life with fais-dodos (street dances). There are also numerous museums in the city for history- and culture-loving travelers.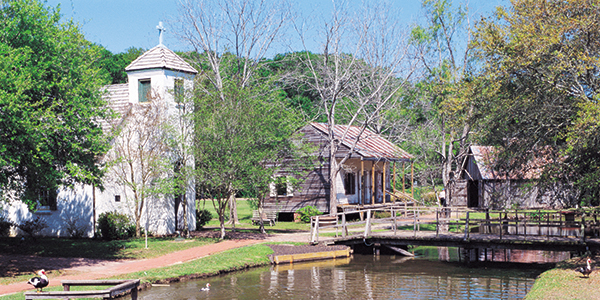 Visitors wanting to learn more about local culture should start their visit at the Acadian Cultural Center, which traces the history of the Acadian (Cajun) people of the region through exhibits, films, educational events and guided tours. The center is inside Jean Lafitte National Historical Park and Preserve, and every Tuesday through Friday, park rangers give talks on the history and culture of the region. Other on-site attractions include daily 9 am screenings of The Cajun Way: Echoes of Acadia, a half-hour-long film about the history of the Acadian people. The park also offers a Junior Ranger program for children, in which young visitors can earn badges and certificates by participating in educational activities and scavenger hunts. In spring and fall, rangers take visitors on guided tours aboard the Cocodrie, a traditionally built bayou boat.
Another must-see destination is Acadian Village, a recreated 19th-century community with restored houses, neat walking paths and well-tended gardens. Learn how Acadians lived and worked in the age before phones, automobiles and the Internet.
In a similar vein, Vermilionville is a site that will be enjoyed by those interested in Acadian, Creole and Native American cultural traditions. This 23-acre living history museum focuses on life in the region between 1765 and 1890 and includes seven traditional restored homes for guests to explore. These include a reproduction chapel based on 18th-century Catholic churches, a Greek Revival house filled with traditional textiles, and a number of classical Acadian homes. There's even a reproduction schoolhouse with an old wood stove. The center also hosts cultural events throughout the year, including exhibits on indigenous traditions, Mardi Gras, Black history and Acadian culture. It's a great place for children, and along with demonstrations by local craftspeople. There's even a summer camp.
Cajun and Zydeco music are also celebrated with fervor in Lafayette, and the city has some great festivals. Along with the annual Mardi Gras celebrations, there's the Scott Boudin Festival, a family-friendly celebration of local food, culture and music that's held in the first weekend of April.
The 11-day-long Cajun Heartland State Fair is a state fair with a Cajun twist, and the Festivals Acadiens et Creoles are a collection of celebrations that fete Cajun and French Creole cultures. Every spring in March and April, the Lafayette Science Museum Foundation hosts the Bach Lunch, a lunchtime concert series held at the Parc Sans Souci as a benefit for the museum's programs. Visitors can listen to live music—including plenty of Cajun and Zydeco bands—while dining on specially prepared meals from some of the city's most loved local restaurants.
If you're visiting Lafayette in the fall of spring, be sure to catch the Downtown Alive concert series, held every Friday in the downtown district. Community and culture come together for music, food and drink in a convival atmosphere that is uniquely Lafayette.
Natural Attractions
Though Lafayette is certainly a culture capital, there's also plenty for lovers of nature and the great outdoors. Oak trees are particularly celebrated in the region, and in 1934 a local academic and botanist created the Live Oak Society, a membership organization for oak trees. A single human member acts as the honorary chairperson for registering trees, but otherwise all the members are of the arboreal persuasion. Various trees have held the presidency and vice presidency of the society, and while many have since succumbed to old age, there are plenty of younger oaks that take their place in this quirky—but certainly beneficial—local club.
Lafayette's Vermilion Bay is also a great spot for angling, and charter boats can be hired to take visitors out to fish. The waters are home to huge redfish, flounder, speckled trout and sheepshead.
Those interested in ecology won't want to miss Acadiana Park, a 110-acre natural area that's home to the Nature Station, an education and research center that's open to visitors every day. Along with over three miles of nature trails, the Nature Station offers special night hikes (held throughout the year on the last Saturday of the month) and kayak launches, as well as special programs designed to inspire a love of nature in young children.
For More Information
Lafayette Convention and Visitors Bureau
800-346-1958
www.lafayettetravel.com