RVing Alberta to Manitoba — take an unforgettable drive across the heartland of Canada during its big birthday.
Distance and time: 1,095.7 miles • 22 hours, 31 minutes
Canada turns 150 this year, and what better way to recognize the milestone than to drive the legendary Yellowhead Highway? This iconic stretch of asphalt follows an old fur-trading trail and connects some of the country's most popular destinations. Say "Happy Birthday" as you hit the gas!
1. Jasper National Park
Starting Point • Nature, Outdoor Recreation
Perched high in the Canadian Rockies, this 4,200-square-mile park is replete with lakes, canyons, hot springs and waterfalls, and its striking landscapes have earned it the status of UNESCO World Heritage Site.

Highlights include the Athabasca Glacier (which can be visited by sky coach), the Jasper Skytram (the highest and longest aerial tramway in the country), and the Miette Hot Springs.
2. Edmonton
249.1 miles, 5 hours, 9 minutes • Entertainment, Shopping
Edmonton is an ideal stop for travelers who crave urban adventure within a stone's throw of the great outdoors. The city's gargantuan West Edmonton Mall is the largest shopping complex of its kind in North America, with over 800 stores spread out over more than five million feet. The mall also hosts an amusement park, a water park and an ice-skating rink. Sea Life Caverns and Sea Lions' Rock is an indoor lagoon with a saltwater habitat. The centerpiece is the Santa Maria, a life-size replica of a 15th-century Spanish galleon; visitors can walk the decks of the stationary vessel.
RECOMMENDED STOPOVERS
Diamond Grove RV Campground – Edmonton, AB – (780) 962-8003
Glowing Embers RV Park & Travel Centre – Edmonton, AB – (877) 785-7275
Camp 'N Class RV Park – Stony Plain, AB – (855) 455-2299
3. Lloydminster
162.5 miles, 3 hours, 4 minutes • Nature, Quirky
Right on the border of Alberta and Saskatchewan, Lloydminster notably straddles both provinces but operates as a single unified city. The city's other main claim to fame is its gigantic outdoor sundial (Canada's largest), which sits inside Bud Miller All Seasons Park. The sundial's gnomon (the central part that casts a shadow) towers an impressive 23 feet high.
4. North Battleford
87.1 miles, 1 hour,  37 minutes • History
Get your pioneer history fix at North Battleford, which houses a branch of the Western Development Museum. This institution focuses on farm life on the prairie and features a 1920s-style village along with exhibits detailing life on the plains throughout the 20th century. The town was also the home of famous Cree painter Allen Sapp, and there's a museum here highlighting his works.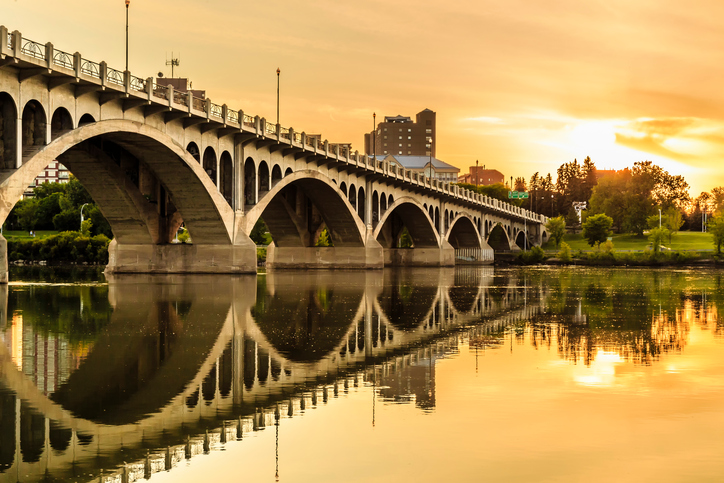 5. Saskatoon
90.6 miles, 1 hour,  47 minutes • History, Nature
The biggest city in Saskatchewan, Saskatoon is also one of the liveliest areas in this largely rural province. Don't miss a visit to the Saskatoon branch of the Saskatchewan Western Development Museum, which features an indoor replica of a home-stead town dating back to 1910. Nature lovers should check out the Beaver Creek Conservation Area, an ecological site focused on the nature of the prairie.
6. Good Spirit Lake
182.9 miles, 3 hours, 48 minutes • Nature, Outdoor Recreation
Not far from Yorkton, Good Spirit Lake is an ideal stop-off for those who want a little time on the water. It's a great place to go boating (there's a launch on the south end of the lake), and fishing opportunities abound here thanks to the lake's sizable population of northern pike and walleye. The park also has plenty of bicycling and hiking trails, one of which winds through part of the park's five miles of sand dunes.
7. Portage la Prairie
266.6 miles, 5 hours, 37 minutes • Food, Nature
A hub for agriculture, Portage la Prairie is a great place for strawberries, and it's also an ideal stopping off point for birdwatchers. Delta Beach in particular (around 20 miles north of Portage la Prairie) is a great vantage point to check out avian species. In the spring, warblers, yellow-headed blackbirds, and sandpipers descend upon the area.
RECOMMENDED STOPOVERS
Miller's Camping Resort – Portage La Prairie, MB – (204) 857-4255

 8. Winnipeg
56.9 miles, 1 hour, 29 minutes • Entertainment, History, Outdoor Recreation, Quirky
Manitoba's biggest city, Winnipeg is a major hub for the arts and hosts numerous cultural events and festivals throughout the year. At the heart of the city, The Forks acted as a trading spot for local indigenous people as far back as 6,000 years ago. Today, The Forks encompasses a variety of visitor-friendly attractions, including a huge market featuring crafts and produce along with an array of parks.
RECOMMENDED STOPOVERS
Arrowhead RV Park – Winnipeg, MB – (888) 878-4203
Winnipeg West KOA – St Francois Xavier, MB – (800) 562-0378