With a thriving arts scene, a temperate climate, ribbons of emerald green fairways, and the incredible scenery surrounding the area, St George is a haven you will wish you had discovered long ago. Just 90 minutes north of Las Vegas, Nevada, in the southwest corner of Utah, desert red rock meets alpine mountains in a stunning display of geologic majesty. Rich in pioneer history and surrounded by beautiful red cliffs, the list of things to do in St George, Utah, gets very long.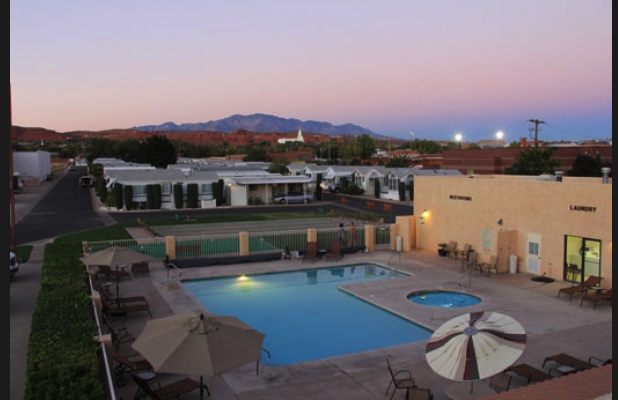 Community centers and Recreation centers, Art festivals and theaters, all provide activities for you and old year round. St George, Utah could easily be considered the southwest's most dynamic destination.
While visiting St George stay at the beautiful McArthur's Temple View RV Resort, a high rated Good Sam park that offers many amenities. A beautiful pool and jacuzzi, clean modern laundry room, state of the art fitness center and restrooms that are rated a 10 with Good Sam (their highest rating).
Sports?
Try out the 5th largest marathon in the United States or maybe the renowned Ironman 70.3 North American Pro Championships. Maybe the Huntsman World Senior Games or the Canyons Softball Complex hosting 40 annual events is enough to satisfy.
State Parks?
A 20-minute drive northwest of McArthur's Temple View RV Resort will take you to Snow Canyon State Park. A collection of red sandstone rock formations that boasts trails suitable for all level of hikers. This park could be a national park in any other state it's so beautiful! Red, white, black and green are all found in Snow Canyon.
Native Petroglyphs?
The Little Black Mountain Petroglyph Site is located just south of St George over the Arizona border. Featuring over 500 individual rock art designs representing approximately 6,000 years of human habitation. The work of several different cultures, the site shows representations of bear paws, lizards and turtles.
Golf?
A popular spot for golf getaways, the St George area is home to nine golf courses. Two of which Golf Digest Magazine lists among its top five courses in Utah: Entrada at Snow Canyon and Coral. Our RV park offers golf packages at several of these courses.
Our staff will be happy to help you schedule a tee time!
This is just a small sample of what St George has to offer the RVer as they travel across this country's beautiful highways. Take a break and enjoy St George while staying at McArthur's Temple View RV Resort.
We can't wait to see you!