Last year, our family of five opened up our RV season with a week-long vacation to Myrtle Beach. The days leading up to the trip were rushed as we simultaneously wrapped up work and packed up our travel trailer. Because of the cold weather in New Jersey, I decided to wait on checking our water systems. When I turned the kitchen sink on in Myrtle Beach, it practically exploded in my face!
Lesson learned: DO NOT drive 10 hours before fully opening your RV up for the new season.
This year, we decided to open up our camping season a bit earlier and a bit closer to home. This way we could make sure all the systems were functioning properly. After a brutally cold winter, we were also itching to go camping. We reserved a large full hook up pull thru site at Timberland Lake Campground, a Good Sam Park in Jackson, New Jersey, for our season opener, and I am so glad we did.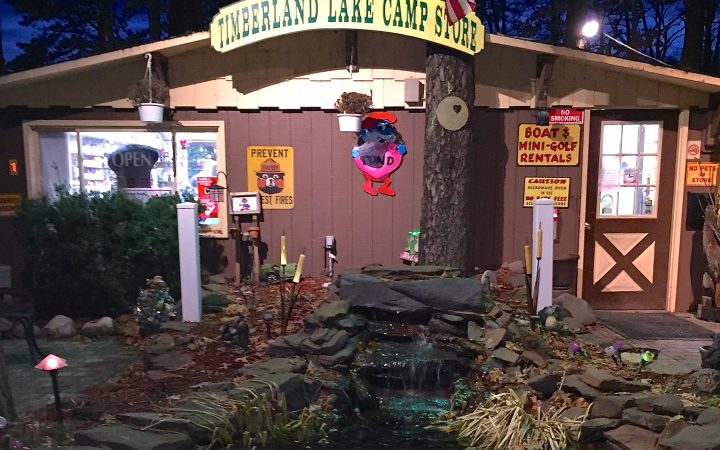 Timberland Lake Campground is located in Central New Jersey, just 30 minutes inland from the beach. It also happens to be only minutes away from Six Flags Great Adventure. This is a family campground through and through, with scheduled activities on the hour, a stocked fishing lake, playground, and pool. The campground offers large, full-hook up pull throughs in a rustic setting.
There was tons of excitement in the air at Timberland Lake as the campers showed up for one of the first weekends of the season. There was a chili cook off and a full schedule of activities for kids. Our boys went on their first tractor ride of the season, and they played for hours and hours at Timberland's large and super-fun playground.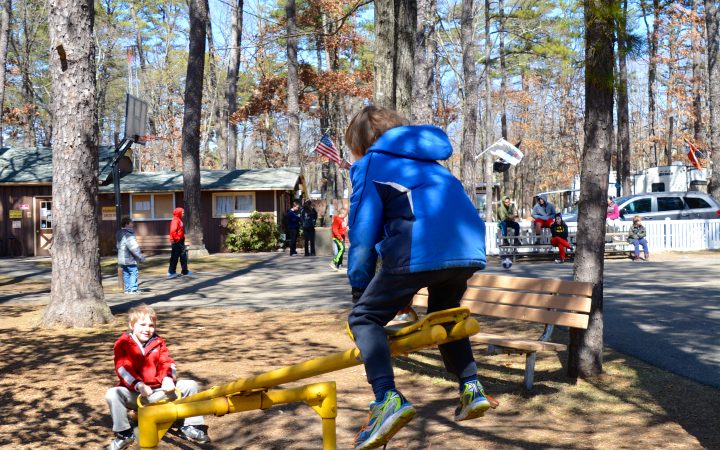 Meanwhile, us adults filled up the propane, stocked up on firewood, tested out some new camping gear and fully opened up our camper without a single leak. Stephanie also made her first pot of chili in her new dutch oven using a tripod over the open campfire. It was delicious! Unfortunately she finished up too late to enter the chili contest in the lakeside tent.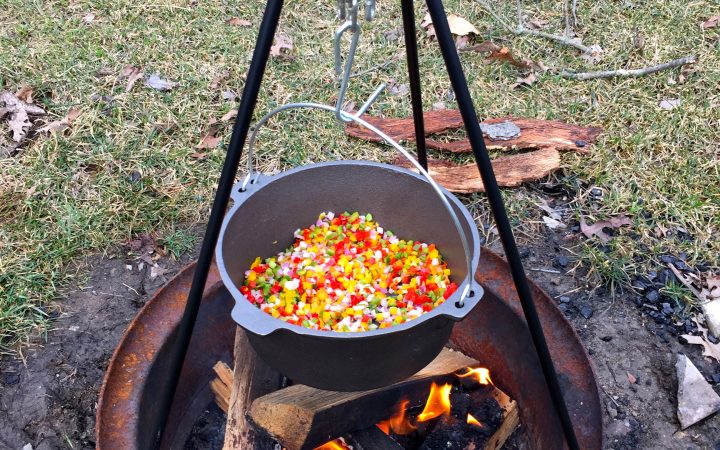 Over the course of the weekend, we made many trips to the cozy and well-stocked camp store, which was always bustling with activity as the campers stocked up on food and warmed up with coffee and good conversation. Thankfully they had the fixins' for the all important first s'mores of the season, which we enjoyed back at the campfire before being chased inside by the unseasonably cold weather.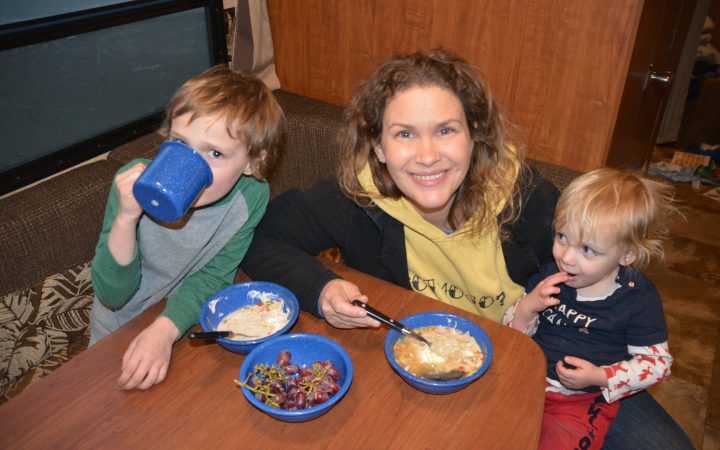 The temperature dropped into the 20s that night, but we cranked up the heat inside the RV and stayed warm and toasty. When we woke up on Sunday morning the pipes (or at least the hose outside) was frozen and we couldn't get water into the camper. We opened up the valves and waited patiently for the water to come back—and eventually it did.
Once it warmed up a bit and I made our morning coffee, we decided to take a walk around the campground and explore a little bit more. The boys had fun walking around the lake and out onto the dock—but ultimately, they wanted to go back to the playground. So I grabbed another cup of coffee at the camp store and kicked back and watched them play, and play and play.
We had such a great time kicking off the 2015 camping season at Timberland Lake Campground, and we hope to return for opening weekend next season. If we do I'll make sure that Stephanie enters that chili contest. The competition was fierce, but I think she could win!
Jeremy and Stephanie Puglisi are the co-hosts of the RV Family Travel Atlas podcast, which is available for free on iTunes, Stitcher and their blog.