If you are looking for a beautiful, quiet, clean, easy in and out campground, Big Meadow Family Campground is the place to be.
Big Meadow Family Campground
Most of our sites have concrete pads and patios, with the majority being pull thru. All of our sites are full hookup, including water, electric, sewer, 74 channels of cable TV and wireless Internet thru out the park. We constantly strive to make improvements to our park and landscaping, hoping our customers will have a "more enjoyable stay"!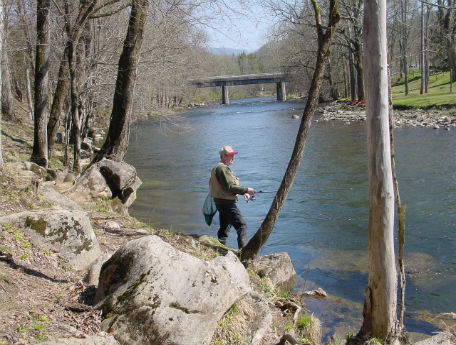 Our sites are staged in three different levels of pricing, so you have choices. The park offers clean rest rooms that are climate controlled, laundry room, pavilion for use by groups free of charge and devotions Sunday morning, May thru October.
Fun splash pad for the young and young at heart. There is also a playground with a pirate ship, a crazy house that "Jack Built" and a basketball court. A new addition is the Dog Park. This is where our four legged friends can run and play. A mountain stream runs in front of the park. Tennessee Wild Life stocks the stream every other week with rainbow and brown trout.
Tubing on the River
Another fun activity in our area is "Tubing on the River". We are located next door to major tubing businesses that rent tubes and provide pickup service. Lots of fun!
Big Meadow also offers RV Storage; covered storage, long term and short term storage. As part of our services we place the storage units on site and level the campers for free. There are other services you can choose from, such as setting the camper up, arranging for service, washing or winterizing your camper for different fees. Big Meadow can transport campers outside our park.
Destination Park
Big Meadow is a destination park located next door to the Great Smoky Mountains National park. We are only two miles from the Cades Cove entrance to the park. The park is 15 miles west of Pigeon Forge, 17 miles from Gatlinburg, 28 miles from The Tail of the Dragon.
We are a great place for groups to gather. We are able to hold sites for club members to book their reservations. Groups have access to our pavilion at no fee. The pavilion is equipped with a double sink, gas range and a refrigerator. If a group has 21 sites reserved, Big Meadow provides Bar B Q for the group.
Another fun thing for your groups is that Big Meadow and our chamber of commerce team up and provide each club member with a "Goodie Bag" of treats and special offers thru out the community.
Thanksgiving at Big Meadow Family Campground
One of the most fun things that we do at Big Meadow is Thanksgiving dinner. The park provides turkeys and hams and our campers bring one dish. There are always left overs for everyone to take back to their campers to munch on.
The park is open year round. There is always something to do in our area, if nothing else just sit and look at the mountains.