Welcome to Pennsylvania
From the Revolutionary War to the Civil War and America's rapid industrialization, Pennsylvania has played a remarkable role in U.S. history. The Founding Fathers decreed the nation's ideals in Philadelphia's Independence Hall in 1776, and George Washington, the first U.S. president, served part of his term here while the city was temporarily the capital. Less than a century later, Pennsylvania served as the setting for the 1863 Battle of Gettysburg, considered the turning point of the Civil War. In succeeding decades, Pennsylvania continued to make history as the nation's preeminent steel producer.
Pennsylvania Parks
The Pocono Mountains of eastern Pennsylvania are a sylvan delight. The rollicking tree-covered hills provide picturesque views, especially in the autumn months, when the trees explode with orange, red and yellow hues. Equally spectacular are the gently rolling hills and jewel-like lake of the Cumberland Valley.
Cradle of America
Step back in time with a visit to Pennsylvania's largest city, Philadelphia. The Founding Fathers walked these once-cobblestone streets as they composed the Declaration of Independence and the Constitution. Equally historic is the city of Erie, located on the southern shore of Lake Erie. Head out to Presque Isle State Park for endless views of the waters.
States of Fun
The town of Lancaster is the gateway to your uniquely Pennsylvanian adventures in Amish Country. With rolling farmlands and charming covered bridges, you'll be treated to beautiful pastoral views.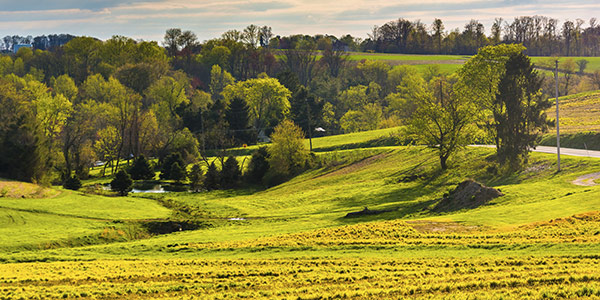 The name Hershey is synonymous with chocolates, but in Pennsylvania, you'll find this is also the name of a town and a theme park. In Pittsburgh, steel was once king, although today the town is notably green, with four huge regional parks within its city limits. There are also plenty of art and science museums.