Welcome to New Mexico
Explore unique landscapes and vibrant cultures in the Land of Enchantment. The Sangre de Cristo Mountains provide a scenic backdrop in the northern region of New Mexico, with snow-capped peaks rising high above the horizon, while the Chihuahuan Desert sprawls across the southern region. The Rio Grande River winds its way down through the center of the state, nurturing a fertile valley. Keep your eyes peeled for the state bird, the roadrunner, racing through the yucca and piñon pines. Head underground to treat yourself to an entirely different view at Carlsbad Caverns National Park.
Native American, Spanish and Mexican roots exert strong influences over the state's colorful cuisine, vibrant arts and elegant architecture. Tempt your taste buds with the explosive flavors of a carne adovada or green chile enchiladas. Bite into some pillowy Navajo flat bread, and then top off your meal with sopapillas dipped in sweet honey.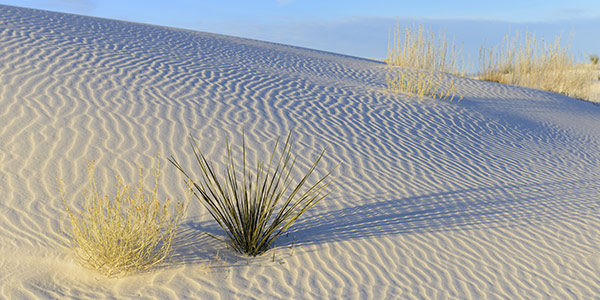 Rugged Landscapes
Rolling hills of glittering white sands may be markedly different from the expected New Mexico landscape, but that's exactly what you'll find at White Sands National Monument in the southern part of the state.
For a more traditional New Mexico landscape, visit Bandelier National Monument. Scraggy plants and trees rise above the terrain, while ponderosa pines can be found in the park's high elevations.
Throughout the state, several sites tell the stories of New Mexico's earliest residents. The Gila Cliff Dwellings National Monument, Aztec Ruins National Monument and the Chaco Culture National Historical Park preserve past civilizations.
Iconic Towns
Santa Fe seems to be part and parcel of the surrounding desert landscape, with smooth beige adobe buildings lining the streets. With its pulsating history and culture, Santa Fe seems worlds away.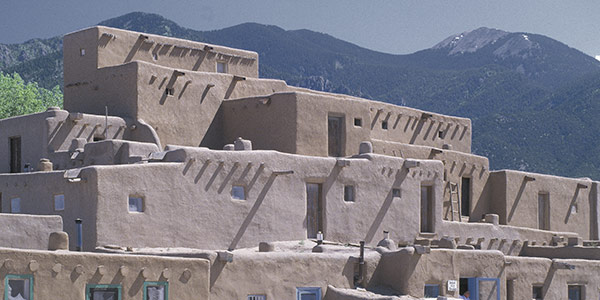 Take the Turquoise Trail Scenic Byway from Santa Fe to New Mexico's largest city, Albuquerque. Once you arrive in Albuquerque, head to the Old Town district to enjoy the charming adobe buildings, then take the tram up Sandia Peak for views of city and mountains. Thousands of visitors converge here each October for the Albuquerque International Balloon Fiesta.
Take an iconic road trip through New Mexico by traveling along Route 66. Interstate 40 follows much of the same route, with sections of the old road preserved nearby.