Today's RV travelers can sample Missouri well-preserved stretch of Route 66 and relive the thrills of yesteryear's travel adventures. But don't complete your trip without a little detour to the foot-stomping city of Branson.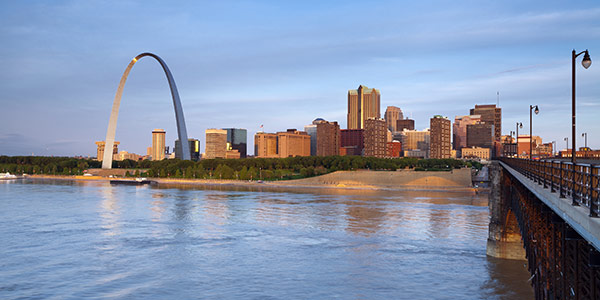 1. St. Louis
Starting Point • Entertainment, Food, History, Outdoor Recreation
St. Louis was the gateway west for many settlers in the 1800s — as memorialized by the 630-foot tall Gateway Arch. Catch a home game of the 11-time World Series champions, the St. Louis Cardinals. Put the world class St. Louis Zoo at the top of your must-see list, and add the Missouri Botanical Garden, too. Ready for a cold one? Tour the historic Anheuser-Busch Brewery. Cheers!
2. Meramec Caverns
Drive 64.1 miles, 1 hour, 5 minutes • History, Nature
What's 400 million years old, 4.5-miles long, and among the most popular tourist attractions on Route 66? Meramec Caverns — an extensive system of natural limestone caves graced with showy limestone formations like a naturally-formed, three-legged onyx table. Take the tour and learn about those who've sought shelter there, from Pre-Columbian Native Americans to Civil War soldiers. Outlaw Jesse James went underground here.
3. Devils Elbow
Drive 68.2 miles, 1 hour, 6 minutes • Food, Nature, Outdoor Recreation
"It's a devil of an elbow," is how many boatmen described it. Sure enough, the sharp turn in the Big Piney River created hellish logjams for timber rafters. The name stuck, and Devils Elbow was born. Take a spin along this picturesque stretch of historic old Route 66, or stop and hike around its many trails. Finish the day with classic Missouri barbecue at the Elbow Inn bar.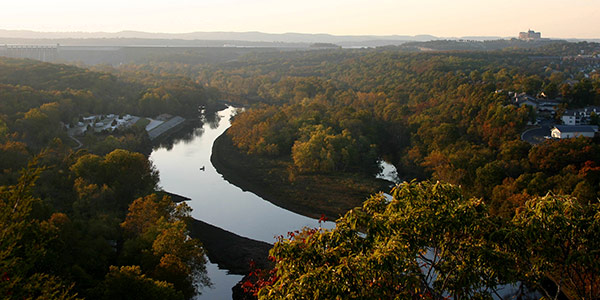 4. Branson
Drive 127 miles, 1 hour, 58 minutes • Entertainment, Nature, Quirky
Branson is the undisputed capital of entertainment in the Midwest. Throughout the town, theaters put on shows by entertainers from the singing Osmonds to comedian Yakov Smirnoff. Find more fun in Silver Dollar City, an amusement park with wholesome diversions. Get your nature fix at nearby Table Rock Lake and Marvel Cave Park.
Recommended Stopovers
America's Best Campground • Branson, MO – (800)671-4399