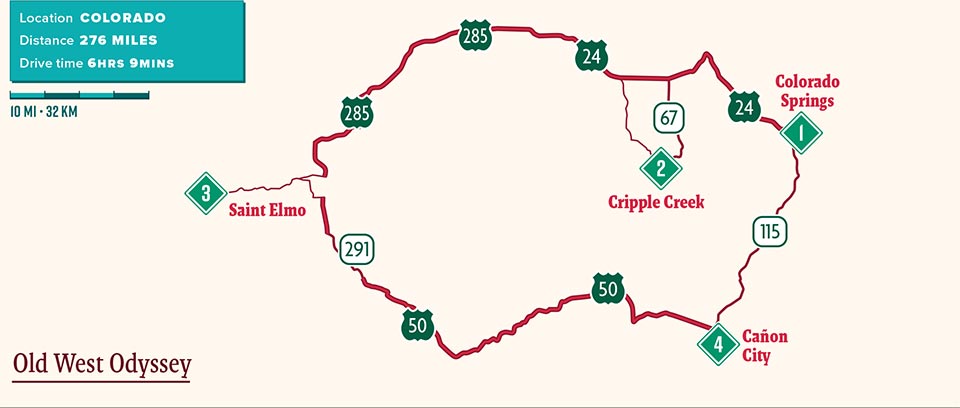 With stunning natural attractions and plenty of history, Colorado is a gateway into the Old West history. Follow this loop to experience a rough-and-tumble chapter of the gold rush and more.

1. Colorado Springs
Starting Point • Nature, Outdoor Recreation, Sports
Start your journey at the base of the Rocky Mountains in Colorado Springs, over 6,000 feet in altitude. This lovely city has hundreds of miles of trails; it's also home to the U.S. Olympic Training Center and U.S. Airforce Academy. The highlight for many visitors is a visit to the Garden of the Gods, a 1,367-acre park dominated by towering sandstone formations.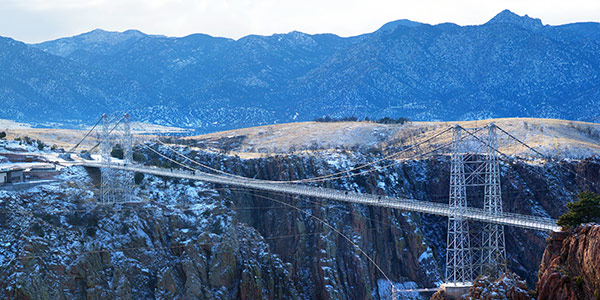 2. Cripple Creek
Drive 44.6 miles, 1 hour, 5 minutes • History, Outdoor Recreation
Steeped in Old West history, this small city complements its frontier legacy with more than a dozen casinos. Travelers of all ages won't want to miss a ride aboard the Cripple Creek and Victor Narrow Gauge Railroad, a restored, gold-rush-themed steam train that passes through the city's historic district. For a deeper understanding of area history, stop by the Cripple Creek District Museum, which includes exhibits on local rail and mining history.
3. Saint Elmo
Drive 96 miles, 2 hours, 3 minutes • History, Quirky
Touted as one of the best-preserved ghost towns in the state, if not the country, St. Elmo was once a thriving community built around the area's burgeoning mining industry. Like so many towns, it was abruptly abandoned when the mine stopped producing. Today's visitors can explore old buildings, including shops, a schoolhouse and a post office. There's still a general store selling antiques, snacks and souvenirs.
4. Cañon City
Drive 90.4 miles, 2 hours, 2 minutes • History, Outdoor Recreation
End your journey in Cañon City, a mining town that preserved its Old West architecture amid the glorious backdrop of the Colorado Rockies. Attractions include the fascinating Royal Gorge Regional Museum & History Center and the Prison Museum, both of which shed insight into the area's wild history. Take a walk across the vertigo-inducing Royal Gorge Bridge, one of the highest suspension bridges on earth. Drive 45 miles, 58 minutes back to Colorado Springs to complete the loop.