Grand Junction
Embrace the Centennial State's wild side on the Western Slope
Rugged mountains, rolling hills, rushing rivers and towering timber forests constitute the backdrop of a compelling town.The largest city on Colorado's Western Slope, Grand Junction is named for the point where the Gunnison River joins the Colorado River; the city sits on the banks on all sides of the Y. Surrounding the town, the vast Grand Valley is one of the state's largest food- and wine-producing regions. The proximity of Colorado National Monument adds to its appeal.
Past and Present Intertwine
Grand Junction's earliest inhabitants established a small community in the area around A.D. 200, and Native Americans continued to occupy it through the 1800s. Later, American trappers established outposts there, and farmers and ranchers soon followed suit. Today, the region is known more for fun than furs, and RVers will discover all the wonder of Colorado's Western Slope when they stay here.
Get a taste of the area's prehistoric past at Dinosaur Journey Museum, which features robotic dinosaurs. Visitors can examine real dinosaur fossils, dig into hands-on exhibits, experience a simulated earthquake and see a working paleontology laboratory. The gift shop offers an array of unique dinosaur items. Hikes in the Rabbit Valley Trail Through Time and actual dino digs round out the experience.
Also in town, the Museum of the West features exhibits detailing Colorado's long history of inhabitants. Climb the Sterling T. Smith Education Tower, with a 360-degree view of the area.
Enjoy the fruits of Colorado's bounty on an excursion along the Palisade Fruit & Wine Byway. East of Grand Junction, you'll discover more than a dozen wineries, vineyards and cellars.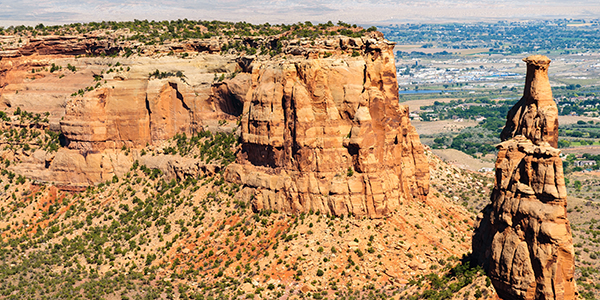 Exploring Rugged Rocks
Spend at least a day at the Colorado National Monument, just 15 miles southwest of town along the winding Rimrock Drive. The area's deep sandstone canyons and granite-gneiss-schist rock formations draw photographers and sightseers from across North America. Hiking and biking trails snake deep into the rugged landscape, giving adventurous visitors countless views of geological marvels.
If you prefer relaxed bodies of water to craggy rock faces, set out for the James M. Robb-Colorado River State Park, a string of stunning lakes situated along the banks of the Colorado River. Drop a line for bass or northern pike in this tranquil environment.
About 55 miles to the east, Grand Mesa beckons travelers eager to reach new heights. The largest flattop mountain in the world rises more than 10,000 feet above sea level and sprawls across hundreds of square miles. The Mesa Scenic Byway takes motorists through 63 miles of the surrounding Grand Mesa National Forest with more great views.
For More Information
Visit Grand Junction
970-244-1480
Colorado Tourism Office
800-265-6723