Harpers Ferry
Walk in the footsteps of presidents and pioneers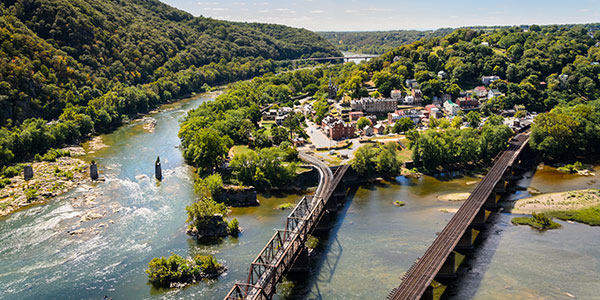 Harpers Ferry may be a tiny village, but it packs a lot of history into a few square miles. Historians say George Washington surveyed the land known as Harpers Ferry when he was just seventeen. Thomas Jefferson is said to have touted its beauty as worthy enough to visit from across the Atlantic Ocean.
Harpers Ferry is the place where the country was introduced to its first successful railroad. John Brown's raid to abolish slavery took place there—as did three Civil War battles, including one that resulted in the largest surrender of U.S. troops in U.S. history until World War II. At least seven U.S. Presidents were known to visit Harpers Ferry as a quiet vacation retreat. Today, throngs of tourists enjoy it as a gateway to Harpers Ferry National Historical Park.
Harpers Ferry National Historical Park includes land that's part of the neighboring states of Virginia and Maryland. The park offers a number of vantage points from which to enjoy great vistas. In the Lower Town of Harpers Ferry, visitors can use the Potomac River footbridge to cross into Maryland, ultimately winding up at the Maryland Heights overlook with its amazing views of Harpers Ferry, the Blue Ridge Mountains as well as the Potomac and Shenandoah Rivers.

A Major Point
The Point is another scenic spot for Harpers Ferry visitors. From the Lower Town shuttle bus stop, take Shenandoah Street, past historic John Brown's Fort. A gravel path will lead to The Point, so named because it's truly "the point" at which you can see the Potomac and Shenandoah Rivers meet.
Museum exhibits, ranger-guided tours, Civil War battle sites and living history workshops are just some of the park attractions. "Living History Event Weekends" are offered throughout the year, giving park visitors a chance to witness everything from 19th-century farming to Civil War artillery demonstrations.
In town, the Harpers Ferry Historical Association's Bookshop serves as an official ambassador for the park, offering not only books but also artwork, postcards, and gift items for kids all ages. In addition to finding something uniquely tied to the history and culture of Harper's Ferry, purchases help to support the park's interpretive programs. You'll find the main bookstore on Shenandoah Street and an outlet in the park's Visitors Center.
For More Information
Harpers Ferry National Historic Park
West Virginia Division of Tourism
800-225-5982